How do I configure Outlook Express for my E-Mail Accounts?


See video tutorial here: Setting up Outlook Express

The following article explains how to download mail from your hosting account using Microsoft Outlook Express.
Microsoft Outlook Express
In Outlook Express, from the Tools menu, select Accounts...


A box will appear. Click Add and select Mail.


Enter your name as you want it to appear on your emails and click Next.

 
Put in your email address, eg. joe@yourdomain.com, and then click Next.

 
Set the server type as POP3.
For incoming and outgoing mail servers, enter mail.yourdomain.com (where yourdomain.com is your domain name and extension such as .com, .net, etc).

 
Click Next.


Enter your email address for the Account Name. Enter the password you set for this account.


 

Click Next and then click Finish. After you click Finish, you should see the following window.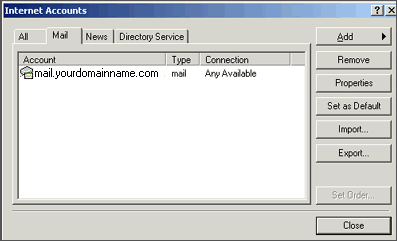 You should still see the Mail tab, so click the Properties button
Select the Servers tab
Check the box at the bottom which says "My server requires authentication"
Select the Advanced tab
At the top you will see "Server Port Numbers" and "Outgoing mail (SMTP):" with a value of 25. You need to change this to port 26 if you are not able to send emails using 25.
Click the Apply button, OK button, and the Close button.
Now you can test your email.