Attract More Customers
Whether you're looking to bring in new website visitors, grow online sales, get the phones ringing or keep customers coming back for more, Google Ads can help.
What is Google Advertising?
Google has an online advertising system called Google Ads. These ads show on the first few pages of Google search results giving maximum exposure to your business. Be seen by customers at the very moment they're searching on Google for the things you offer!  It's the best way to get people looking for your products or services!
Get onto the 1st page of Google Today!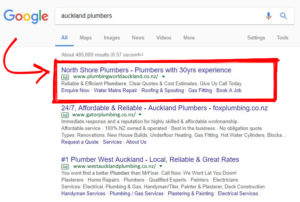 With Google Ads PPC advertising we have the ability to generate almost instantaneous results. There is so much competition for websites to get on the first page of Google but with Ads we can get you there straight away! Google Ads is a great way to promote your business, sell more products or services, raise awareness of your brand, and increase traffic to your website.
WebDesignGuys can set up and manage a Google Ads campaign for you, so all you have to do is sit back and enjoy the results. We monitor and adjust your account daily as needed to show your ads to the right people at the right time. A monthly report is provided, so you can see how your campaign is going. We provide tracking of data which helps in analysing and aids in boosting your ad over your competitors.
Our PPC service is fast, flexible, and guaranteed to get you noticed. We know we can provide compelling results that will add up for your business and give instant insights into areas for growth. We are Google Ads certified. Hiring a Google Ads certified company to manage your Ad account can help save you time and maximize your return on investment.
Call WebDesignGuys to get your website to the top of Google today!